Bookshop Day is a one-day celebration of all high street bookshops in the United Kingdom, including independent bookshops and bookstore chains. Organised by the Booksellers Association in the UK, the campaign "aims to highlight the cultural importance of books and bookshops", and celebrate the booksellers who bring the two together.
"Booksellers are what make our book-buying experiences so special – they are book experts, curators, community champions, bibliotherapists and matchmakers," goes the Bookshop Day webpage. The first Bookshop Day was launched in 2013 and has since been observed every 14th of October to encourage book lovers to shop at their local bookshops.
A day for bookstores sounds neat. While we haven't reached a level where we're confident of calling ourselves "book experts, curators, community champions, bibliotherapists and matchmakers", we're certainly gunning for it. Part of our efforts towards that end include our book recommendations, like this selection of bookstore-related books...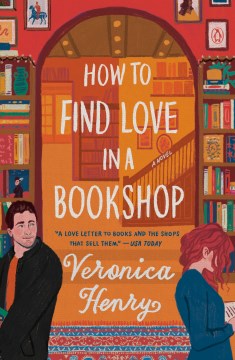 How to Find Love in a Bookshop by Veronica Henry
Penguin Books
9780735223509
For years, Nightingale Books served as a hub and refuge for the lit-minded locals in a small town. But its finances are dire and the current owner struggles to keep the shop open after her father's death. The temptation to sell grows, but can she find the means to keep the shop open and keep her promise to her father? Not just romance, long-held secrets, and unexpected hopes for the future, this book is also about the beating heart of a community and the lives of those connected to it.
The Door-to-door Bookstore by Carsten Henn
Hanover Square Press
9781335490858
Small-town German bookseller Carl Kollhoff delivers books to special customers in the evening hours after closing time. A loner for much of his life, Carl develops a bond with his customers, many of whom are loners too. One day, despite Carl's objections, nine-year-old Schascha joins him on his rounds, befriend his customers, and amazes Carl with her mind and determination. When Carl's job is in peril, he has to think about what he'll do with his life. It's books, friendship, and Schascha to the rescue.
Welcome to the Hyunam-Dong Bookshop by Hwang Bo-reum
(translated by Shanna Tan)
Bloomsbury Publishing
9781526662262
Go to university, marry a decent man, get a respectable job. Yeongju did all this and yet her life is far from rosy. Burned out, she leaves practically everything behind to pursue her dream of opening a bookshop. In a quaint Seoul neighbourhood, Yeongju sets up shop but the first few months were rough. Eventually, she eases into her new life, reading lots, holding author events, and developing her way of selling books. Will her dream take flight?
Days at the Morisaki Bookshop
(UK edition)
by Satoshi Yagisawa
Zaffre
9781786583239
Somewhere in Tokyo lies a shop filled with hundreds of second-hand books. Takako has never liked reading, although the Morisaki bookshop has been in her family for three generations. Her uncle Satoru has devoted his life to it since his wife left him. When Takako's boyfriend ditches her for someone else, she reluctantly accepts her Satoru's offer to live rent-free in the tiny room above the shop. Hoping to nurse her broken heart in peace, Takako is surprised to encounter new worlds within the stacks of books in the Morisaki bookshop.
The Little Paris Bookshop by Nina George
Abacus English
9780349140377
Jean Perdu runs a bookshop on a barge on the Seine River. On this floating 'literary apothecary', this bookseller 'prescribes' books that will soothe the troubled souls of his customers. The only person Jean is unable to cure, it seems, is himself. Twenty-one years ago, the love of his life fled Paris, leaving behind a handwritten letter that remains untouched. The arrival of an enigmatic new neighbour in his apartment building inspires Jean to unlock his heart, unmoor the floating bookshop and set off for Provence, in search of the past and his beloved.
The Bookshop Book by Jen Campbell
Constable Robinson
9781472116666
More than just rooms full of books, bookshops can be housed in barns, disused factories, converted churches, underground car parks, boats, buses, old run-down train stations, and maybe more. From the oldest bookshop in the world, to the smallest you could imagine, this book traces the history of books, talks to authors about their favourite places, and looks at over two hundred weirdly wonderful bookshops across six continents. It is a love letter to bookshops all around the world.
The Diary of a Bookseller by Shaun Bythell
Profile Books Ltd
9781781258620
Shaun Bythell owns The Bookshop in Wigtown, Scotland's largest second-hand bookshop. In these wry and hilarious diaries are the trials and tribulations of life in the book trade, from struggles with eccentric customers to wrangles with his own staff, who include the now-notorious Nicky. Go on book-buying trips to old estates and auction houses and experience the thrill of the unexpected find and the rhythms and charms of small-town life with possibly the snarkiest and crankiest bookshop boss in the British Isles. The adventure continues in Bythell's Confessions of a Bookseller.
---
We have World Book Day, World Paperback Day, and now we have Bookshop Day. We're open every day (except when doing stock take or renovations) so every day is a good day to visit a bookstore. But if you're looking for a special day for a bookstore outing, then maybe mark 14 October on your calendar.